How to Size a Gearmotor
This guide will provide you with a series of identifying questions, and the answers you need to determine how to size a gearmotor. Gearmotors are complete motion components that include a gear reducer integrated with an electric motor. Application-tailored and custom gearboxes and gearmotors are increasingly common with suppliers offering engineering support along with the availability of new machine tools, automation, and design software. Engineers identify gearmotor designs that perform to specification after analyzing the series of questions and answers outlined in this guide.
Download this free guide to learn:
Which key factors to consider when sizing a gearmotor
How to size for top performance and demanding applications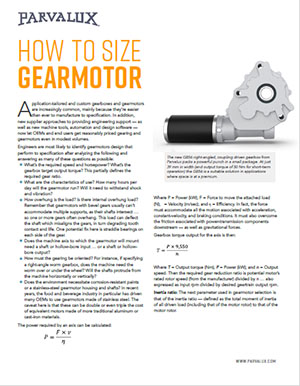 ---
Click 'Sign in' above to use your Design News Direct Profile information. Don't have a Design News Direct Profile?
Register Now
.