Can You Automate Innovation with Generative Design?
The future of your organization is dependent on your product design team creating breakthrough products that exceed customer expectations, boost sales and beat the competition. With looming deadlines and budget constraints, it can be hard for executives to foster innovation in their product design teams.
While Generative Design can be a great source of new, awe-inspiring designs, it also addresses these challenges by automating the creation of designs in practical and pragmatic ways. Not only does it cut down on design exploration costs, but also creates a new, faster way for your product designs team to work together.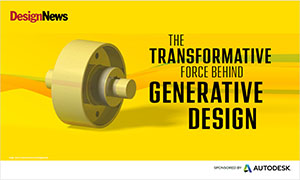 ---
Click 'Sign in' above to use your Design News Direct Profile information. Don't have a Design News Direct Profile?
Register Now
.