OGN series open fuse holder is now Through-Hole Reflow (THR) compatible for fully automated PCB assembly
SCHURTER introduces the OGN series open fuse holder for 5x20 mm fuses
---
Santa Rosa, California, July 29nd, 2022 – SCHURTER is known for its compact high-performance fuse holders, and the OGN series open fuse...
Santa Rosa, California, July 29nd, 2022 –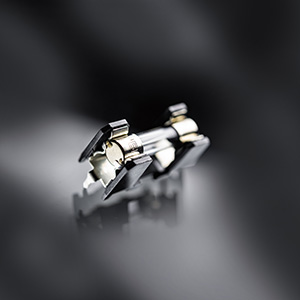 SCHURTER is known for its compact high-performance fuse holders, and the OGN series open fuse holder for 5x20 mm fuses is no exception. The series now offers a version that is compatible with Through-Hole Reflow (THR) solder processes, in addition to the existing THT and SMT versions.
SMT components are used for PCB assemblies. Ideally, these components are compatible with solder reflow processes to fully automate the assembly. While THT components offer a board mounted solution, they are typically not designed for the rigors of a reflow process. In these cases, a second soldering step is necessary. The additional manual step required for THT assembly is time consuming and allows additional margin for error.
The solution is Through-Hole Reflow (THR) components, combining the features of PCB THT mounting with a component capable of withstanding the high thermal stress of a reflow oven. The THR component is first printed into the pin vias, and then pushed through the solder paste. As the paste melts in the reflow oven, the liquid solder retracts into the vias, due to wetting and capillary forces, to form the solder joint.
As with existing OGN series open fuse holders, the OGN THR is designed for various types of 5x20mm fuses. The series is rated 16 A at 500 VAC/VDC according to UL and CSA and 10/16 A at 500 VAC according to VDE. The series can be enclosed with an optional cover. Rated power acceptance according to IEC is 4W / 16A at Ta 23°C for the version without cover. A black cover offers a power acceptance of 4W / 10A and a transparent cover is approved at 2.5W / 10A. Admissible ambient air temperature range is -40°C to 85°C. The OGN series also complies with enhanced fire safety requirements and features glow wire resistance according to IEC 60335-1. The OGN THR is fully backwards compatible with the OGN THT.
Pricing for the OGN THR starts at about $0.40 each in 500-piece quantities. Pack unit is 100 bulk or 320 on Blister tape for pick and place. Link to OGN THR Data Sheet and OGN Whitepaper. For sales and product information, contact Savannah Lee at (800) 848-2600 or by email at [email protected].
About SCHURTER Inc.
The SCHURTER Group is the world's leading Swiss technology company providing components and complex solutions that ensure safe power supply and simplified equipment operation. The company's professional competence, financial independence, innovative strength and distinctive corporate culture, propel the SCHURTER Group, together with its customers and partners, into the digital future. The safe&easy brand claim not only refers to the products, but also the company's business philosophy, which strives for sustainable success through innovation, high-quality products and service, flexibility and proximity to customers.
SCHURTER is known globally as an innovator, manufacturer and distributor of fuses, connectors, circuit breakers, switches, EMC products, and input systems. Touch screens and touch panels, capacitive sensor keypads, membrane keypads and housing systems are developed in close cooperation with its customers. Within its business unit Solutions, SCHURTER combines all competencies and puts them at the customer's disposal. SCHURTER products and solutions are developed especially for specific industry segments – medical, data and communication, automotive, avionics & space, energy and the broader industrial market. SCHURTER considers the quality of its products and services as the key factor to the company's lasting success. Its management and improvement processes are designed and certified according to ISO 9001, ISO 13485, ISO 14001, ISO 45001 and IATF 16949, using the EFQM and Baldrige Excellence Models, as well as the application of Lean Management principles such as Value Stream Planning, Power Innovation, SSO, and Six Sigma.
SCHURTER Inc., Santa Rosa, California is the exclusive North America sales and distribution office for the SCHURTER Group
Editorial Contact: Myra Hallman
[email protected]
Published by Schurter, Inc. on Jul 29, 2022