EMC Filter Series FMAB NEO For Protection Class II Applications
SCHURTER announces new FMAB NEO single-phase EMC filter for Protection Class II applications
---
Santa Rosa, California, August 31st, 2022 – SCHURTER announces its new FMAB NEO single-phase EMC filter for Protection Class II applica...
Santa Rosa, California, August 31st, 2022 –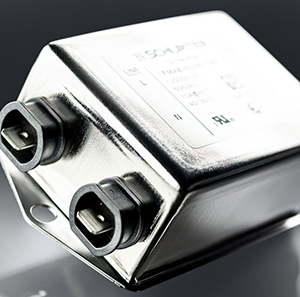 SCHURTER announces its new FMAB NEO single-phase EMC filter for Protection Class II applications. This new double-insulated filter with no protective ground expands SCHURTER's latest EMC filter family to include both Protection Class I and Class II versions. The Class II version meets the more stringent requirements for critical medical systems and at-home medical care devices according to IEC 60601-1-11 & 12. These requirements include increased insulation safety testing, lower leakage current, and higher attenuation performance of electro-magnetic interferences, particularly symmetrical attenuation.
According to IEC 61140, the term Protection Class II is also referred to as protective insulation. It is further defined as protection by doubling or reinforcing insulation of live parts. All clearances and creepage distances must be doubled, requiring that the inside of the filter also has double or reinforced insulation. The new FMAB NEO for Class II meets all these requirements, with reinforced insulation inside of the filter and large plastic collars around the terminals. Additionally, the filters are hi-pot tested with 4kVAC between L or N against the metal housing for a dielectric strength of >5.6kVDC, according to the requirements of IEC 60601-1. Leakage current ratings of < 5 μA are available. Other applications for the FMAB NEO include use in devices for industrial equipment, laboratories, telecom apparatus, audio/video, and office equipment.
The FMAB NEO for Protection Class II is rated 1-20A at 250VAC according to IEC and 125/250VAC according to UL. Pricing starts at $9.16 each in 500-piece quantities. Link to FMAB NEO Data Sheet. Link to White Paper Protection Class II. For sales and product information, contact Savannah Lee at (800) 848-2600 or by email at [email protected].
About SCHURTER Inc
The SCHURTER Group is the world's leading Swiss technology company providing components and complex solutions that ensure safe power supply and simplified equipment operation. The company's professional competence, financial independence, innovative strength and distinctive corporate culture, propel the SCHURTER Group, together with its customers and partners, into the digital future. The safe&easy brand claim not only refers to the products, but also the company's business philosophy, which strives for sustainable success through innovation, high-quality products and service, flexibility and proximity to customers.
SCHURTER is known globally as an innovator, manufacturer and distributor of fuses, connectors, circuit breakers, switches, EMC products, and input systems. Touch screens and touch panels, capacitive sensor keypads, membrane keypads and housing systems are developed in close cooperation with its customers. Within its business unit Solutions, SCHURTER combines all competencies and puts them at the customer's disposal. SCHURTER products and solutions are developed especially for specific industry segments – medical, data and communication, automotive, avionics & space, energy and the broader industrial market. SCHURTER considers the quality of its products and services as the key factor to the company's lasting success. Its management and improvement processes are designed and certified according to ISO 9001, ISO 13485, ISO 14001, ISO 45001 and IATF 16949, using the EFQM and Baldrige Excellence Models, as well as the application of Lean Management principles such as Value Stream Planning, Power Innovation, SSO, and Six Sigma.
SCHURTER Inc., Santa Rosa, California is the exclusive North America sales and distribution office for the SCHURTER Group
Editorial Contact: Stephanie Elliott
[email protected]
Published by Schurter, Inc. on Sep 01, 2022