MSM Non-Illuminated Switch with Colored Ring Indication
SCHURTER extends its Metal Design Line series MSM to include a version with a non-illuminated indicator
---
Santa Rosa, California, October 13, 2022 – SCHURTER extends its Metal Design Line series MSM to include a version with a non-illuminate...
Santa Rosa, California, October 13, 2022 –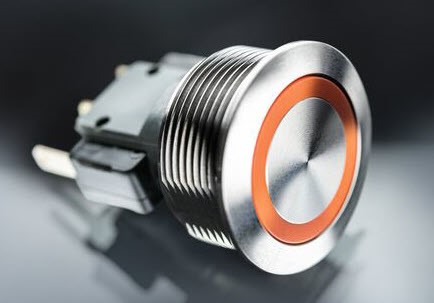 SCHURTER extends its Metal Design Line series MSM to include a version with a non-illuminated indicator. A colored ring is used instead of an illuminated ring, which lowers the cost of the switch and eliminates the cost associated with wiring an external power source to drive LEDs. Consistent with SCHURTER quality, the new MSM variant provides safe operation, excellent haptic feedback, and highly reliable actuation.
The momentary-action MSM Non-Illuminated Ring Color (RC) switch is a welcomed extension to the SCHURTER range of unlighted Metal Line pushbuttons. The new addition provides industrial designers with a less costly means of achieving switch indication while meeting the users' unrivaled need for haptics. The combined visual and mechanical feedback ensures a highly reliable actuating function with enhanced user safety. For example, using a red ring color to indicate a "Stop" function and green for "Go" further clarifies the intended use of the switch. The PMMA ring color provides a modern appearance with up to 7 fashionable color options. The robust metal housing and actuator are made of high-grade stainless steel and tout an ingress protection rating of IP 67 from the front contact area. The switch is UV resistant with an impact resistance rating of IK07, making it tolerant of outdoor exposure and use in harsh environments. The switch lifetime is rated for 1.5 million operations.
The MSM RC is offered with several mounting options: 16, 19, 22, and 30 mm, and it features an anti-rotation design. Rated for 100 mA at 30 VDC and 5 A at 125/250 VAC, the switch is easily wired with quick-connect terminals. Typical applications include control panels for automation machinery, medical and laboratory equipment, food processing and service equipment, and vending. Ideal for use in banks of similar colors or multiple variations of colors.
Pricing for the MSM RC starts at under $15.00 in 100-piece quantities for the 16 mm version. The switches are packaged in boxes of 10 pieces each. The MSM series is RoHS-compliant, Halogen-free, and bears the CE, UKCA, and REACH markings. Link to MSM Non-Illuminated Datasheet. Link to Landing Page. For sales and product information, contact Savannah Lee at (800) 848-2600 or by email at [email protected].
About SCHURTER Inc
The SCHURTER Group is the world's leading Swiss technology company providing components and complex solutions that ensure safe power supply and simplified equipment operation. The company's professional competence, financial independence, innovative strength and distinctive corporate culture, propel the SCHURTER Group, together with its customers and partners, into the digital future. The safe&easy brand claim not only refers to the products, but also the company's business philosophy, which strives for sustainable success through innovation, high-quality products and service, flexibility and proximity to customers.
SCHURTER is known globally as an innovator, manufacturer and distributor of fuses, connectors, circuit breakers, switches, EMC products, and input systems. Touch screens and touch panels, capacitive sensor keypads, membrane keypads and housing systems are developed in close cooperation with its customers. Within its business unit Solutions, SCHURTER combines all competencies and puts them at the customer's disposal. SCHURTER products and solutions are developed especially for specific industry segments – medical, data and communication, automotive, avionics & space, energy and the broader industrial market. SCHURTER considers the quality of its products and services as the key factor to the company's lasting success. Its management and improvement processes are designed and certified according to ISO 9001, ISO 13485, ISO 14001, ISO 45001 and IATF 16949, using the EFQM and Baldrige Excellence Models, as well as the application of Lean Management principles such as Value Stream Planning, Power Innovation, SSO, and Six Sigma.
SCHURTER Inc, Santa Rosa, California is the exclusive North America sales and distribution office for the SCHURTER Group
Published by Schurter, Inc. on Oct 13, 2022