FMAB NEO Single-Phase Block Filter with Added Ground Choke
SCHURTER's FMAB NEO single-phase filter series now offered with enhanced asymmetrical attenuation performance in higher frequencies
---
Santa Rosa, California, December 15, 2022 – SCHURTER's successful FMAB NEO single-phase filter series is now offered with enhanced asy...
Santa Rosa, California, December 15, 2022 –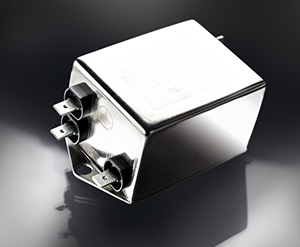 SCHURTER's successful FMAB NEO single-phase filter series is now offered with enhanced asymmetrical attenuation performance in higher frequencies, achieved by adding a ground line choke on the earth conductor. The new filter series offers a simple solution to filtering critical earth conductor currents generated by today's power conversion technologies, such as those using high-speed switching power supplies, frequency converters, and motor drives.
Due to the inherent electromagnetic interferences being generated in and between different systems, inadequately suppressed interferences can affect the operation of the equipment or other nearby devices. To meet these EMC challenges, engineers are searching for high-performance filters, which will also fit in smaller spaces. In addition to the current-compensated choke on the line and neutral conductor, the FMAB NEO offers a second choke on the earth line. The ground line choke is located between the filter input and output. With the two earth connections at the input and output, the earth connection at the main input is insulated from the housing. This ensures that possible high-frequency interference currents on the earth conductor cannot bypass the filter via the housing. Applications with critical high-frequency earth line currents include medical and laboratory equipment, audio and video, as well as industrial automation systems. Medical filters without Y-capacitors especially benefit from an improved asymmetrical attenuation in the higher frequency range due to the earth conductor choke.
The single-stage FMAB NEO filter family is ENEC and cURus approved. Rated current range is 1-60 A at 40°C. The temperature range is from -40 °C to +100 °C with deratings according to rated current. Rated voltage is 125/250 V. Variations include models with PE Choke, Protection Class II, Standard leakage current at 1 mA and Medical low leakage M80 or M5. Mounting options include bolt and nut or quick-connect terminals. Wire leads are also available on request. Pricing for the FMAB NEO PE-Choke starts at $22.00 each at 100-pieces. Link to datasheet. Link to landing page. For sales and product information, contact Savannah Lee at (800) 848-2600 or by email at [email protected].
About SCHURTER Inc
The SCHURTER Group is the world's leading Swiss technology company providing components and complex solutions that ensure safe power supply and simplified equipment operation. The company's professional competence, financial independence, innovative strength, and distinctive corporate culture, propel the SCHURTER Group, together with its customers and partners, into the digital future. The safe&easy brand claim not only refers to the products, but also the company's business philosophy, which strives for sustainable success through innovation, high-quality products and service, flexibility, and proximity to customers.
SCHURTER is known globally as an innovator, manufacturer and distributor of fuses, connectors, circuit breakers, switches, EMC products, and input systems. Touch screens and touch panels, capacitive sensor keypads, membrane keypads and housing systems are developed in close cooperation with its customers. Within its business unit Solutions, SCHURTER combines all competencies and puts them at the customer's disposal. SCHURTER products and solutions are developed especially for specific industry segments – medical, data and communication, automotive, avionics & space, energy, and the broader industrial market. SCHURTER considers the quality of its products and services as the key factor to the company's lasting success. Its management and improvement processes are designed and certified according to ISO 9001, ISO 13485, ISO 14001, ISO 45001 and IATF 16949, using the EFQM and Baldrige Excellence Models, as well as the application of Lean Management principles such as Value Stream Planning, Power Innovation, SSO, and Six Sigma.
SCHURTER Inc., Santa Rosa, California is the exclusive North America sales and distribution office for the SCHURTER Group
Editorial Contact: Stephanie Elliott
[email protected]
Published by Schurter, Inc. on Dec 16, 2022