NewAge® Introduces "10 Tubing and Hose Buying Tips for Brewers"
New from NewAge Industries' Food and Beverage division is an educational brochure written to help brewers of beer with tubing and hose selection. Topics include temperature resistance, flexibility, quality, reuse, and solutions for beer spoilers and off-taste. Choosing the wrong tubing for a brewing process can result in a bad batch. These tips aim to avoid that and assist brewers with producing great tasting beer.
---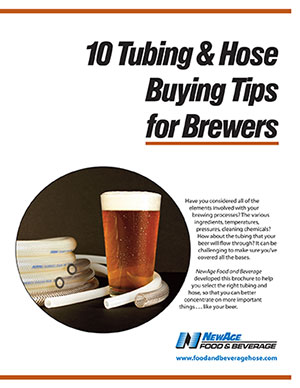 New from NewAge Industries' Food & Beverage division is a brochure offering tubing selection and buying tips for brewers. It's an educational piece written to remind beer brewers what to look for when choosing tubing or reinforced hose for fluid transfer needs throughout their brewing processes.

"Brewers put a lot of time and effort into producing great tasting beer," noted Joe Linquist, the Food & Beverage division's dedicated Craft Brew Specialist. "Tubing is only one part of the whole beer transfer system, so it can be overlooked or misunderstood. Some brewers simply don't know enough about the materials used to make tubing, the physical characteristics, and the impact on the beer or brewing process."

Many factors go into the tubing selection process, no matter the industry. Brewers, however, have some special considerations when it comes to tubing and fluid transfer hose, as do industries like dairy, pharmaceutical and food service.


"10 Tubing & Hose Buying Tips for Brewers" covers topics including working temperature ranges, chemical compatibility, flexibility, sanitizing, pressure or vacuum specifications, and association approvals. Download the brochure and check out tip number six, for example. It focuses on flavor transfer, a critical aspect for brewers, and describes how beer spoilers can contribute to off-taste and how choosing certain formulas of tubing can address this challenge.

According to Linquist, "Lots of brewers thoroughly enjoy the process of making beer. They like to explore different recipes, choose and combine ingredients, guide the transformation, and then taste something cold and delicious as a result. Brewers don't want a component like tubing to have a bad influence on the final product. Great tasting beer should be a reward for all that hard work."

Download a copy of "10 Tubing & Hose Buying Tips for Brewers" at http://www.foodandbeveragehose.com/10BuyingTips-request.htm.
For questions or details about NewAge's food and beverage tubing, visit http://www.foodandbeveragehose.com or contact the Fluid Transfer Specialist(R) at NewAge Industries, Inc., by phone: 800-506-3924 or 215-526-2300; e-mail: [email protected]; fax 800-837-1856 or 215-526-2190; or at 145 James Way, Southampton, PA 18966.
Published by NewAge Industries Inc. on Dec 04, 2018