The Difference Between Disc Springs and Belleville Washers
While both Disc Springs and Belleville washers may be suitable for your application, they are not always interchangeable. This white paper breaks down some of the important differences, and why a disc spring may be more beneficial for your application.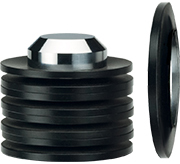 ---
Click 'Sign in' above to use your Design News Direct Profile information. Don't have a Design News Direct Profile?
Register Now
.