How to Select the Proper Pin for Your Application
Fasteners are some of the most important parts of an assembly as they hold the entire assembly together and facilitate the interaction between the individual components. Ideally, the selected fasteners are simple to assemble, provide a quality product for the intended lifetime of the assembly, and yield the overall lowest cost of the assembly taking into account the entire manufacturing process. This article focuses on how to select the proper pin for an application. Specifically, press fit pins are discussed here as they are the most common types of pins used in modern manufacturing.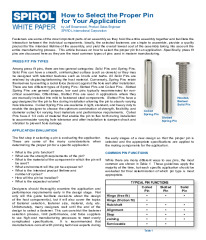 ---
Click 'Sign in' above to use your Design News Direct Profile information. Don't have a Design News Direct Profile?
Register Now
.