KNF's New UFK 1.1100 is a Revolutionary Three-diaphragm Liquid Pump for HazLoc Areas
NF announces the UFK 1.1100 EX
---
Trenton, NJ, April 1, 2022 – KNF announces the UFK 1.1100 EX, a revolutionary low pulsation, high flow liquid pump for HazLoc areas....
Trenton, NJ, April 1, 2022 –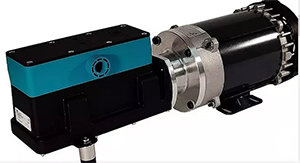 KNF announces the UFK 1.1100 EX, a revolutionary low pulsation, high flow liquid pump for HazLoc areas. The UFK 1.1100 Ex is one of the industry's most advanced solutions for transferring liquids, at high flow rates with low pulsation. It provides performance required by oil & gas, extraction, and cooling circuit applications. The robust, adjustable pump is offered with chemically resistant materials.
The new UFK 1.1100 Ex has a flow rate of up to 11.5 liters per minute, doubling KNF's previous maximum for HazLoc liquid diaphragm pumps. It has a single inlet and single outlet, with three diaphragms. They are offset by 120° to each other and connected in parallel, resulting in very low pulsation and minimal shear forces. Intensive testing demonstrates that the pump easily achieves pulsation values below 200 mbar at the inlet and outlet, with even lower pulsation available with a damper. This allows the UFK 1.1100 to convey liquid gently, protecting fragile media elements.
The UFK 1.1100 is highly durable, with die-cast aluminum housing and high-torque motors. It provides continuous operation with up to 6 bar back pressure. Even at high pressure, the pump delivers an impressive 8 l/min. It offers over-pressure protection, recirculating internally to the inlet to prevent damage in case of blockage.
Other advantages of diaphragm technology include the use of elastomer diaphragms, which remove the risk of contaminating the media in the pump. It allows almost any type of liquid to be conveyed, including corrosives. The pump is self-priming with a 4.5 mH2O suction height and able to run dry, reducing the need for additional equipment.
Versions are available in a variety of carefully selected materials, including NSF certification for food applications, or elastomers with higher chemical resistance. Customers can choose between different protection levels with standard being Class 1, Division 1, Groups C&D single-phase AC motors. 3-phase motors for VFD use and Class 1 Division 2 Groups ABCD may be available as well. The speed of the 3-phase motor can be controlled using a variable frequency drive, permitting lower flow rates if necessary.
About KNF Neuberger
KNF Neuberger, Inc. is a leader in liquid diaphragm pumps for process customers. Built upon a foundation of engineer-to-engineer collaboration, KNF combines technical expertise and manufacturing leadership to address application-specific challenges for an ever-growing list of markets. KNF is committed to serving customers with industry-leading customer service, rigorous product life, and validation testing, and as a reliable and trusted technical resource. We strive to optimize not only our pumps, but also to assist our customers in optimizing their overall systems. More than 80% of our business involves customer-optimized solutions.
For more information, visit knf.com/en/us/ufk-11100-ex.
Published by KNF Neuberger Inc. on May 11, 2022