An Engineer's Guide to Selecting a Check Valve
Check valves, also known as one-way valves, are used to flow fluid in a predetermined direction and prevent any back flow or reverse flow from occurring. When designing a fluidic system that requires a check valve, it's essential to select one that will operate reliably and with precision. Many critical applications cannot tolerate any back flow as even the slightest amount could negatively affect system performance or may even cause damage to upstream components the check valve is intended to protect. Understanding what needs to be considered when selecting a check valve is crucial in order to make sure your system performs as intended.

This eBook was written by engineers to highlight selection criteria that engineers should consider when deciding on a check valve to use in a fluidic system.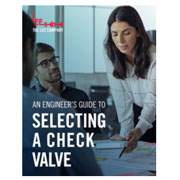 ---
Click 'Sign in' above to use your Design News Direct Profile information. Don't have a Design News Direct Profile?
Register Now
.