How to choose the right connector for low-pressure fluid handling: A 3-Step Guide
The tubing connector is a critical component in solving fluid handling challenges that include media characteristics, flow rate or pressure requirements, physical space limitation, air inclusion and spillage while moving fluid from point A to B. The connector you choose can make a big difference in product reliability, performance and user acceptance.

Learn the three steps for determining the ideal connector type for your specific low-pressure fluid-handling application. Download CPC's white paper, "How to choose the right connector."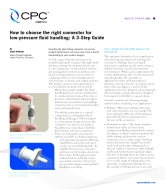 ---
Click 'Sign in' above to use your Design News Direct Profile information. Don't have a Design News Direct Profile?
Register Now
.