The Missing Link in Efficient and High-Performing AWD and 4WD Electrified Propulsion: The Dynamic Controllable Clutch System – an Electro-Mechanical E-axle Disconnect Solution
The demand for electric vehicle (EV) technology has seen exponential growth in the past several years. This is driven by many countries mandating electric propulsion as a high percentage of new vehicle sales in the very near future as well as customer demand. However, customer demand also dictates that a significant volume of vehicles need to be SUVs, crossovers, and light-duty trucks with four-wheel-drive (4WD) and all-wheel-drive (AWD) capability – something that is not easily achieved with an electric drivetrain. Until now. Means Industries, an Amsted Automotive Group company, addresses this key drivetrain issue with the Dynamic Controllable Clutch, an Electro-Mechanical E-axle Disconnect system. More than a concept, this system is currently launching in production on a suite of 4WD electric vehicles.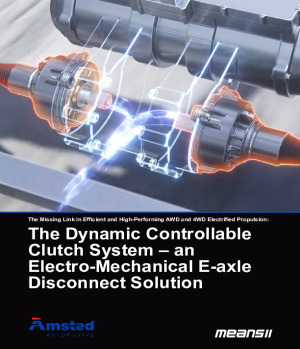 ---
Click 'Sign in' above to use your Design News Direct Profile information. Don't have a Design News Direct Profile?
Register Now
.