New Guide to Gating Systems: Improve Plastic Parts Mold Performance
In plastic injection molding, gating systems impact the cost, quality, and performance of the parts being molded. Optimizing the system for size and location is essential for achieving structural, operational, and cosmetic expectations. Even when you work with an experienced partner to design your molds, you'll learn a lot from this 18-page guide. You'll gain new tips to ask better questions, make better choices, and get better molds, parts, and improve the performance of your injection molding process. You'll learn how gate size and location can impact your part design and final product; how to optimize the design and performance of your gates, runners and sprues…and much more. Download it today for a good read and a valuable "keeper" resource.
What you will learn:
How gating systems impact the quality & cost of injection-molded parts
How to balance gate size and type with material and part complexity
Tips to ensure proper gate location and optimize part design
Six common types of gates and how to choose the right one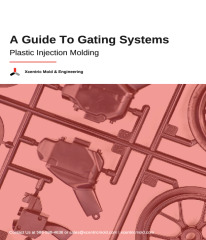 ---
Click 'Sign in' above to use your Design News Direct Profile information. Don't have a Design News Direct Profile?
Register Now
.