3D Printing with Metals for Design Engineers, Explained
Using metals in 3D printing for industrial series production is getting real, and not only for aerospace, biomedical, and automotive uses. Those are still the leading industrial application sectors, but they're not alone anymore in this alternative to traditional metal fabrication for end-use parts.
Additive manufacturing for end-production is complex. Using metals AM for end-production is even more complex, and can be confusing to anyone that's new to the topic. In this special report, we've gathered some guidelines for engineers on designing for 3D metals printing, and how it differs both from traditional metals techniques like casting, as well as 3D printing with polymers. We've also included some advice on integrating this non-traditional manufacturing method into a company's culture.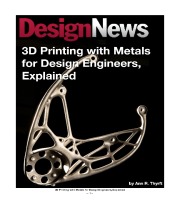 ---