Zober Industries, Inc.
Company Profile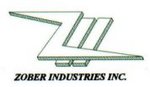 Zober Industries, Inc.is your one-stop source for custom manufacturing: Printed Circuit Assembly, Electro-Mechanical Assembly, CNC Machining, Sheet Metal Fabrication and complete Engineering and Design.

Zober Industries was founded in 1970 by Joel Zober as a small machine shop in Langhorne Pennsylvania. Through hard work and re-investing in the company, A precision sheet metal fabrication department was added in 1973.
Zober Industries, Inc.
T: 215-788-5523
F: 215-788-2618
Address
500 Coventry Ave.
Croydon, PA
19021
United States
View map
Zober Industries, Inc.
T: 215-788-5523
F: 215-788-2618
Address
500 Coventry Ave.
Croydon, PA
19021
United States
View map