WinSystems Introduces Pico-ITX Single Board Computer With Ideal Functionality for Embedded Industrial IoT Applications
Rugged ITX-P-3800 design packs fanless performance into miniscule form factor; embedded SBC offers industrial connectors and -20ºC to +70ºC operating temperature range
---
ARLINGTON, Texas – October 30, 2018 – Industrial embedded computer leader WinSystems today announced its Intel E-3800 processor-based computing platform in the Pico-ITX form factor. Measuring a mere 3.9 inches by 2.8 inches (100 mm by 72 mm), the ITX-P-3800 delivers low-power performance, endurance and versatility. The proven design of this rugged single board computer (SBC) accelerates time to market for new products while assuring that they will perform reliably in critical applications for many years – even under harsh operating conditions. Equally important, it gives embedded and industrial IoT designers the flexibility to create unique designs via easy-to-use expansion and configuration settings.

"The ITX-P-3800 was specifically designed to provide maximum flexibility, functionality and durability within an extremely small form factor," said Technical Sales Director George Hilliard. "Beyond impressive fanless processing power and an optimum mix of features, its header-based connectors allow these SBCs to easily support diverse packaging solutions, including use within tight enclosures."

WinSystems' innovative Pico-ITX SBC provides a complete system using the latest technology. It incorporates the most frequently used functionality for Industrial IoT applications and Human Machine Interface (HMI) displays and withstands operating temperatures from -20ºF to +70ºF. The ITX-P-3800 also offers the performance required to run Windows 10 IoT and Linux operating systems and enables extended life cycle solutions for energy management, medical and unmanned vehicle designs.

ITX-P-3800 single board computers include dual Ethernet and four USB channels, and accommodate a wide range of DC input power: + 9V to + 36V. They combine powerful Intel E3800 processors with a functional I/O set including four RS-232 serial ports plus a Mini-PCle connector for easy expansion. The smaller header-based connectors allow the SBC to be used within a small box or container.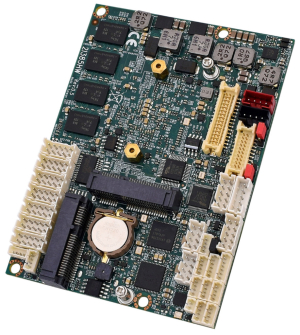 REDUCE PRODUCT-DEVELOPMENT RISK AND TIME TO MARKET By relying on WinSystems' expertise in embedded computer design and manufacturing, customers can be confident their highly reliable products are built on the right computer system. The company's single board computers a...
REDUCE PRODUCT-DEVELOPMENT RISK AND TIME TO MARKET

By relying on WinSystems' expertise in embedded computer design and manufacturing, customers can be confident their highly reliable products are built on the right computer system. The company's single board computers and embedded systems are backed by world-class customer service and responsive technical support from knowledgeable application engineers at every step of the process.


ABOUT WINSYSTEMS

Founded in 1982, WinSystems, Inc. designs and manufactures embedded single board computers (SBCs), I/O modules, and panel PCs that operate over extended temperatures. These products are engineered for demanding requirements and harsh environments, including industrial IoT, industrial automation/ control, transportation management, energy management, Mil-COTS, medical, digital signage and communications applications.

For more information, contact Technical Sales Director George Hilliard at [email protected] or 817-274-7553, ext. 125. www.WinSystems.com


Published by WINSYSTEMS, INC. on Oct 30, 2018

T: (817) 274-7553
F: (817) 548-1358
Address
2890 112th Street
Grand Prairie=, TX
75050
United States
View map
T: (817) 274-7553
F: (817) 548-1358
Address
2890 112th Street
Grand Prairie=, TX
75050
United States
View map