Top Tips: Selecting 2D and 3D Machine Vision Systems
Today's machine vision systems automate many tasks that used to require human eyes, like classification of objects, robotic navigation, measurement, and inspection. Recent advances in 3D imaging technology have made 3D systems less complex and more accessible, but 2D vision systems remain faster and less costly while requiring simpler data infrastructure. Read on to learn how to choose the right machine vision components for your application.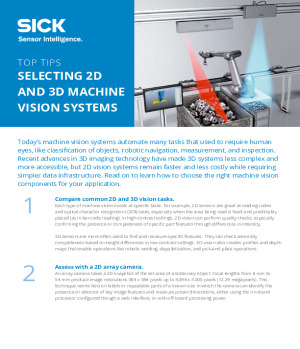 ---
Click 'Sign in' above to use your Design News Direct Profile information. Don't have a Design News Direct Profile?
Register Now
.