Gearheads For High Cycle Applications
There are servo driven applications and then there are servo driven applications. No two are alike. Some require extremely dynamic movements. These need special consideration because the mechanical elements will be taxed to the max. See how we selected the right gearhead for this customer's aggressive profile.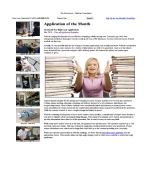 ---
Click 'Sign in' above to use your Design News Direct Profile information. Don't have a Design News Direct Profile?
Register Now
.