The Best Quality, M5 x 17mm, Ultra-small size positioning switch [PT]
---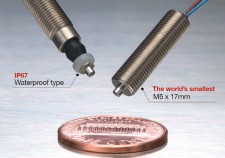 "Ultra Small Size Positioning Switches [PT]" are small heros who secretly support manufacturing all over the world by "precision positioning".
PT series were developed in order to satisfy all these requirements a customer demanded:

Switch diameter M5 and the length should be less than 18mm.
Contact life time should exceed 1 million.
Repeatability shoud be 1/1000mm.
Condensed Metrol technologies into a small body, PT-Touch Switch series have become popular as accurate switches smaller than a dime.
Published by METROL CO.,LTD. on Dec 16, 2015

T: 81 50 5558 7366
F: 81 42 528 1442
Address
1-100 Takamatsu-cho Tachikawa
Tokyo
190-0011
Japan
View map
T: 81 50 5558 7366
F: 81 42 528 1442
Address
1-100 Takamatsu-cho Tachikawa
Tokyo
190-0011
Japan
View map