Servo Cylinder: A robust, high performance linear actuator featuring Phase Index™
Ultra Motion introduces their most advanced linear actuator.
---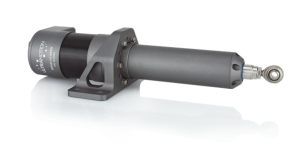 The Servo Cylinder is a compact, high performance brushless DC linear actuator with advanced control electronics and Phase Index™ absolute position feedback. The integrated Phase Index™ sensor is digital, high-resolution, and non-contacting with a wide operating temperature range and is resistant...
The Servo Cylinder is a compact, high performance brushless DC linear actuator with advanced control electronics and Phase Index™ absolute position feedback. The integrated Phase Index™ sensor is digital, high-resolution, and non-contacting with a wide operating temperature range and is resistant to a range of harsh environmental conditions. The combination of Phase Index™ with the Servo Cylinder eliminates the need for homing, limit switches, potentiometers, LVDT's, optical encoders, Hall Effect sensors, and more. All that is required after a simple USB configuration is power and command. The Servo Cylinder's ease of use provides customers with an effective motion control platform that greatly reduces development time and cost.

The Servo Cylinder can provide forces up to 530 lbf, speeds up to 14 in/s, and linear travel up to 7.75", with a maximum supply voltage range from 7-48 VDC. Commands can be sent by a variety of simple, configurable signals like analog DC voltage, 4-20mA, 1-2ms pulse, step & direction, preset positions, serial commands, and more. Visit ultramotion.com for detailed technical information and models.

Ultra Motion, 22355 County Road 48, Cutchogue, NY 11935, (631) 298-9179
Published by Ultra Motion on Nov 11, 2015
T 888-321-9178
631-298-9179
F: 631-298-6593
Address
22355 County Road 48
Suite 21
Cutchogue, NY
11935
United States
View map
T 888-321-9178
631-298-9179
F: 631-298-6593
Address
22355 County Road 48
Suite 21
Cutchogue, NY
11935
United States
View map