SCHURTER Extends SMD Fuse Lineup for Space Applications
SCHURTER announces its new High Current Space Fuse (HCSF) for space applications requiring high current fuse performance.
---
The HCSF is rated from 5 to 15 A @ 125 VDC, with a high breaking capacity of 1000 A. The new fuse is a logical extension to the original space fuse type, MGA-S, which is limited to current ratings up to 3.5 A @ 125 VDC.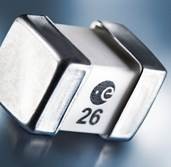 The HCSF is the result of research and development between SCHURTER and the European Space Agency (ESA), expending on the successful development of the MGA-S. Like the MGA-S, the HCSF stands out with its reliability and long-term stability, based on its compact, sealed and robu...
The HCSF is the result of research and development between SCHURTER and the European Space Agency (ESA), expending on the successful development of the MGA-S. Like the MGA-S, the HCSF stands out with its reliability and long-term stability, based on its compact, sealed and robust construction. Each individual aerospace fuse undergoes a rigorous screening test to ensure the highest reliability. The 5-10 A rated currents are qualified according to the ESA/ESCC 4008/002 listing requirements. The 15 A version is planned for introduction in the second half of 2016...(Full PR below)

More information is available at Schurter.com/HCSF

Published by Schurter, Inc. on May 27, 2016