Reinflex Airless Paint Hose by CRP Industrial Ideally Suited for Applying Paints, Solvents, Lacquers, Foams, Caulks, Resins, and Roof Coatings.
Working pressure from 1,000 to 10,000 psi; excellent flexibility and flex fatigue
---
CRP Industrial, a division of CRP Industries Inc. and full line supplier of Reinflex high-pressure thermoplastic and Teflon™ hoses, offers one of the industry's most complete line of Airless Paint Spray Hoses and accessories for use in the application of industrial coatings used in bridge painting, tank painting, ship building, cabinet fabrication, fire proofing, and spray foam insulation as well as for use by large commercial and roofing contractors. Reinflex Airless Paint Spray Hoses are engineered for use with paints, solvents, lacquers, foams, caulks, resins, and roof coatings.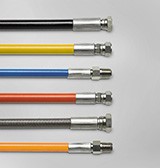 The Reinflex Airless Paint Hose product range features 15 distinct hose styles with a variety of working pressures from low suction to 10,000 psi. The hoses feature excellent flexibility and flex fatigue and are available with a number of cover options including polyurethane ...
The Reinflex Airless Paint Hose product range features 15 distinct hose styles with a variety of working pressures from low suction to 10,000 psi. The hoses feature excellent flexibility and flex fatigue and are available with a number of cover options including polyurethane and stainless steel braiding to improve durability. They are available with a wide variety of male and female fitting styles, including NPT, NPSM, and JIC in plated or stainless steel. Reinflex Airless Paint Hoses range in length from 4 inches to 500 feet. Custom sizes and coupling capabilities are also available.

Reinflex Airless Paint Spray Hoses are rated for operation in temperatures ranging from -90 degrees F to +500 degrees F. Hose sizes range from 1/8 to 1 inch ID. CRP Industrial has over 30 years experience in the high-pressure airless market and Reinflex is an OEM quality brand that has been used in the airless paint industry for over 30 years.

More information is available at www.crpreinflex.com

CRP Industrial is a division of CRP Industries Inc., one of NAFTA's largest suppliers of specific industrial accessories and applications, and has been a proven partner to the North American industrial hose market for more than 30 years, specializing in custom orders for high-pressure thermoplastic hoses. The group consists of three diverse specialty product brands: Reinflex high-pressure thermoplastic and Teflon® hoses, Perske precision high-speed motors, and Tudertechnica fluid transfer hoses. CRP can fabricate and ship an order in as little as 24 hours. For additional information, visit www.crpindustrial.com
Published by CRP Industries Inc. on Aug 25, 2016

T 800-826-4066
609-578-4100
F: 609-655-5300
Address
35 Commerce Drive
Cranbury, NJ
08512
United States
View map
T 800-826-4066
609-578-4100
F: 609-655-5300
Address
35 Commerce Drive
Cranbury, NJ
08512
United States
View map