Quadrant Showcases Thermoplastic Solutions at Process Expo 2017
---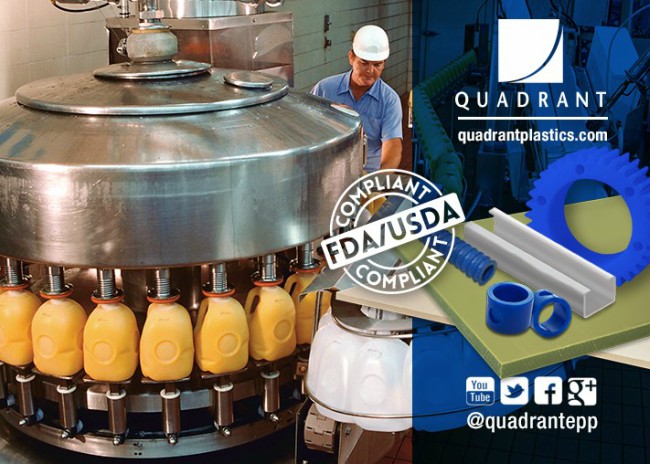 Quadrant Engineering Plastic Products (Quadrant EPP), leading global supplier of high-performance thermoplastic materials, will be attending PROCESS EXPO 2017 this September to showcase innovative thermoplastic solutions for the Food Processing, Packaging, and Conveyance Industries.
PROCESS EXPO 2017 attracts professionals from all segments of the global food and beverage industry who are in search of processing and packaging solutions, including individuals in engineering, operations, maintenance, production, R&D, quality assurance, marketing and sales, and corporate management. The four-day event will feature speaking sessions by experts from some of the top university food science programs in North America, who will address critical topics for food processors and beverage manufacturers.
Environmentally sensitive and highly regulated, the food production and packaging sectors require specific solutions. Quadrant's portfolio of materials developed for food contact, including a newly developed "Food Grade" family, aim to reduce maintenance costs and increase productivity while keeping consumer and employee safety at the forefront.
Quadrant's food compliant materials—FDA, CFIA, NSF, USDA, 3A-SSI, and ED STD certified—provide improved productivity and product lifetime through reduced friction and wear. Self-lubricating formulations lower maintenance costs and lower the risk of lubrication contamination.
Learn more about Quadrant EPP's innovative family of food compliant thermoplastics at PROCESS EXPO 2017 (booth #3811 - North Hall) at McCormick Place in Chicago, Illinois from September 19-22, 2017. Application specialists and technical experts will be available on-site to answer questions and provide guidance.
About Quadrant Engineering Plastic Products:
For over 70 years, Quadrant Engineering Plastic Products (Quadrant EPP) has been proving there is simply no substitute for quality and innovation. Quadrant EPP is the global leader in research, development, and manufacture of machinable, high-performance engineering polymer materials. Quadrant EPP materials are specified for use in food processing and packaging, semiconductor manufacturing, aerospace, electronics, chemical processing, life sciences, power generation, and diverse industrial equipment. Quadrant EPP products range from UHMW polyethylene, nylon, and acetal to ultra-high performance polymers that resist temperatures to over 800°F (425°C).
Quadrant EPP technology is backed by a global team of application development and technical service engineers, specializing in evaluating designs and fabrication techniques. Quadrant EPP materials expertise is available through a worldwide network of branch offices, technical support centers, and authorized dealers. Learn more about Quadrant EPP at www.quadrantplastics.com or connect with Quadrant EPP on Facebook, YouTube,and Twitter ("quadrantepp").
Registered trademarks of the Quadrant group of companies: Acetron®, CleanStat®, Duraspin®, Duratron®, Erta®, Ertalyte®, Ertalene®, Ertalon®, Extreme Materials®, Fluorosint®, Ketron®, MC®, Monocast®, Nylatron®, Nylasteel®, Polypenco®, Proteus®, Sanalite®, Semitron®, Techtron®, TIVAR® and Vibratuf®.
Published by Quadrant Engineering Plastic Products on Sep 14, 2017