PRO2 SERVO BUNDLE FOR DYNAMIC, DEPENDABLE AND EFFICIENT MOTION SOLUTIONS
Introducing the perfectly matched servo bundle, comprising PRO2 servo motors and CDHD / DDHD servo drives.
---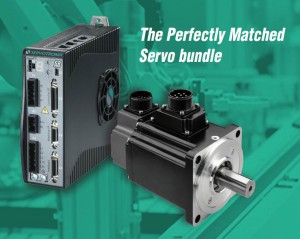 Servotronix is proud to introduce its first servo drive and motor bundle. The bundle features the dynamic PRO2 servo motors that are perfectly matched to the CDHD and DDHD servo drive family. The bundle, which enables fast and easy commissioning, further enhances ease of use and value for our cus...
Servotronix is proud to introduce its first servo drive and motor bundle. The bundle features the dynamic PRO2 servo motors that are perfectly matched to the CDHD and DDHD servo drive family. The bundle, which enables fast and easy commissioning, further enhances ease of use and value for our customers.

The PRO2 bundle features motors with a wide performance range from 50W to 7kW and with a variety of frame sizes from 40mm to 180mm. Adding the range of torque ratings and rotor inertias, the bundle can be optimized for performance and for energy efficiency to a multitude of machine applications.

The Safe Torque Off (STO) certified to SIL 3 on the CDHD gives you confidence that the drive safety function will be available upon demand. Industry standard motion interfaces include EtherCAT, CANopen and Pulse&Direction. Together with extensive I/O interfaces, this bundle gives the machine builder the flexibility needed to select the motion package that is perfectly optimized to the application requirements. Integrated Auto-tuning capability tops off this bundle by providing quick and easy commissioning.

The bundle also comprises Servotronix' proprietary sensAR 20 bit magnetic absolute encoder. This rotary encoder features a compact, robust and durable design that not only improves reliability but above all ensures high resolution and accuracy.

Servotronix customers are not limited to the matched servo bundles. We recognize the need of customers to size servo motors and drives to perfectly fit their applications.

For more information about the PRO2 motors and the Servo Bundle, please visit our website at http://servotronix.com/products/pro2-servo-motors/, and contact us at [email protected]
Published by Servotronix Motion Control on Mar 16, 2016

T: +972 3 927-3800
F: +972 3 922-8075
Address
21C Yagia Kapayim Street
P.O.B. 3919
Petach Tikva
49130
Israel
View map
T: +972 3 927-3800
F: +972 3 922-8075
Address
21C Yagia Kapayim Street
P.O.B. 3919
Petach Tikva
49130
Israel
View map