Peter Parts Electronics, Inc.
Company Profile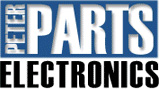 Peter Parts Electronics is a different kind of parts source. We travel directly to the sources in Asia and throughout the world to ensure that you get the highest quality at the lowest price. We personally inspect manufacturing facilities, manage the supply chain and work closely with you to provide the best solution for your parts sourcing. And we offer custom R&D and manufacturing for special applications.
For more information contact Peter Parts Electronics, Inc.