Simplify motion control with integrated motors
Engineers today are faced with the challenge of creating machines that are more robust, smaller, less expensive, and more reliable. Designers who are not experts in motion control are expected to take on challenges in the design process for which they did not necessarily study or train.

One way to address motion control design challenges without being a mechatronics expert is to use an integrated motion control system. Download this ebook to learn more about integrated motor solutions.
Sponsored by Schneider Electric Motion privacy policy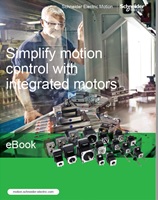 ---
Click 'Sign in' above to use your Design News Direct Profile information. Don't have a Design News Direct Profile?
Register Now
.