New planetary gearboxes with mounted pinion
Powerful solutions for rack and pinion drives
---
Neugart is extending its portfolio of planetary gearboxes, especially for rack and pinion drives, with an additional option for a mounted pinion from its in-house production. Pinions and toothed racks can be used in many areas of mechanical engineering, as is know...
Neugart is extending its portfolio of planetary gearboxes, especially for rack and pinion drives, with an additional option for a mounted pinion from its in-house production.
Pinions and toothed racks can be used in many areas of mechanical engineering, as is known. Appropriate drive systems particularly make it possible to move large machines over distances of several feet with a precise and relatively low-cost construction element. If several toothed racks are fitted one after the other, bigger portals can easily be realized because the length is unlimited. Another application area is with a sprocket wheel. In this case, the gearbox with pinion drives a rotary axis, for example.
Application-specific gearbox/pinion combinations
When the rotatory movement of the electric drive motor in a toothed rod drive is converted into a linear thrust, a considerable amount of radial and axial force acts upon the pinion that is being driven. Integrated gearbox/pinion combinations are particularly tolerant of these specific forces because of their high degree of resilience. The planetary and right-angled planetary gearboxes which have been specially developed for such rack and pinion applications by Neugart use pinions which have been manufactured in-house. The best possible technical coordination between pinion and gearbox is therefore guaranteed.
The gearboxes also have powerful tapered and inclined roller bearings in the output shaft bearing. These are extremely rigid, meaning that in spite of the radial and axial force that occurs, dynamic movement of even heavy weights is possible. A wide variety of gearbox models, sizes and ratios are available for this, in order to accurately depict the speed optimizations and torques that can be transmitted in combination with the pinion.
These special new gearbox/pinion combinations from Neugart can be used with almost any toothed rack on the market, provided that they have the same module and gearing type (helical or straight cut) as the pinion. The high gearing quality of the pinion is also a major advantage for the compatibility of the relevant toothed rack.
Two pinions + eight gearboxes = many possible combinations
Two specific types of pinion are available: the PK1 pinion is fitted to the toothed output shaft of the gearbox, whereby the secure connection that is required is provided by internal toothing in accordance with DIN 5480. The PM1 pinion, on the other hand, is designed for gearboxes with a flange output shaft, and is equipped with a mechanical interface which is standardized in accordance with EN ISO 9409-1. Both types are available with a helical cut, and the PK1 is also available with a straight cut. The pinions are also available in four different modules and with different numbers of teeth.
The pinion option can also be combined with a total of eight gearbox series: including a coaxial planetary gearbox with an output shaft (PLHE) and an output flange (PFHE) from the Economy Line, which include durable and powerful standard gearboxes with an outstanding price/performance ratio. Two coaxial planetary gearboxes with an output shaft (PSN and PLN) or output flange (PSFN and PLFN) and right angle planetary gearboxes (WPLN and WPSFN) are available in the Precision Line, which represents the outstanding accuracy of precision gearboxes.
The gearboxes with pinions can withstand feed force of up to 30,000 N and achieve a maximum feed speed of 650 m/min. The feed force and feed speed are dependent upon the gearbox size and the transmission ratio.
Easy configuration of gearbox/pinion/motor combinations
The new pinion gearboxes are already integrated in the powerful and intuitively operated configuration tools from Neugart: this makes it possible to find the suitable components quickly and easily in the Tec Data Finder (TDF) and also automatically obtain technical data sheets and CAD models. The models can then be taken over directly into the CAD model of the machine or application.
The design that is required to do this can take place in the Neugart Calculation Program (NCP), in which designers can calculate complex load trends in the drivetrain, and determine the optimum application-specific motor/gearbox/pinion combination on this basis. The application parameters of the rack and pinion system can be quickly entered into the predefined application screen. The gearbox with pinion is selected from a database and the calculation is directly displayed in the result bar. The technical characteristics of the pinion such as the pitch circle diameter, the inertia and the load application point for the radial force that occurs are transferred directly into the calculation. This makes it possible to have convenient comparisons with similar gearbox and pinion combinations – and quickly leads to the optimum solution.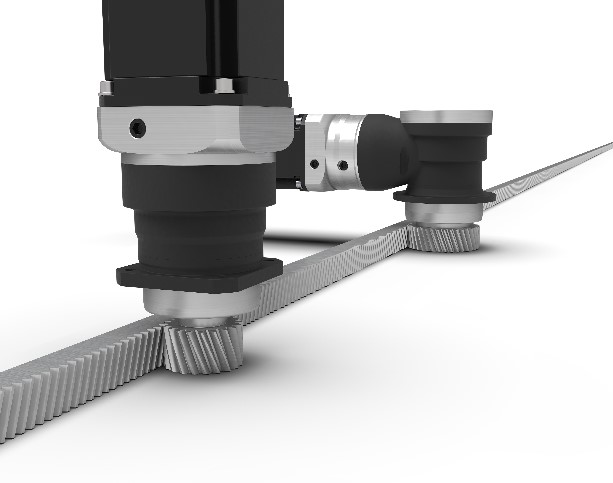 The rack and pinion drives that are used in many applications require gearboxes with a fitted pinion. Neugart is now including this additional option in its portfolio of planetary gearboxes.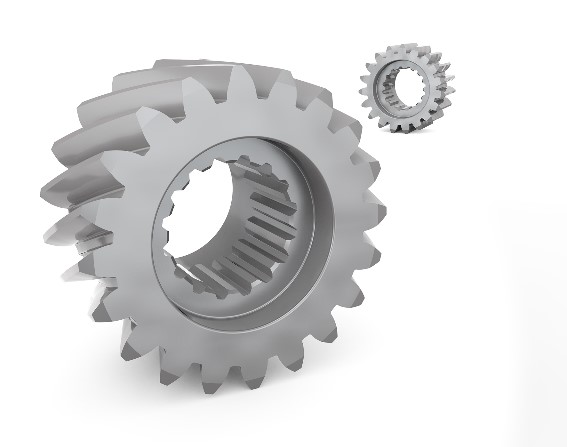 Neugart manufactures the new PK1 pinion in-house, and can guarantee the highest quality standards.
Published by Neugart USA Corp. on Mar 13, 2020