New Keystone Website "Part Builder" System
---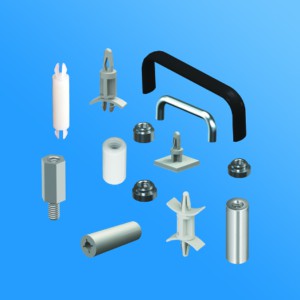 A user-friendly, interactive "Part Builder" system that enables viewers to quickly and easily identify requirements from a vast selection of standoffs, spacers and handle parts, is an exclusive feature on the homepage of Keystone Electronics Corp. website: www.keyelco.com.
Visitors can select from a variety of product attributes (Length, O.D., Thread Size, Material, etc.) to locate specific part numbers and/or specifications and immediately elect to submit selected requirements for sampling or quotation.
In addition to the new "Part Builder" system link on the company's website, users have access to specifications, 2D and 3D product drawings on all Keystone's standard products. Additional informational links on the website include a complete M65 Product Catalog in PDF format and Global Distribution Network listing.
Keystone Electronics Corp. offers a comprehensive line of interconnect components and electronic hardware. Modifications, special designs, stamping, machining, assembly services and application-engineering support are also available. Keystone is ISO 9001 certified, with headquarters in the US and global offices in Europe, Canada, Asia and Australia.
For complete details and specifications contact Keystone Electronics Corp., 31-07 20th Road, Astoria, New York 11105-2017, Tel: (800) 221-5510 or (718) 956-8900; Fax (718) 956-9040 E-mail: [email protected]; website: www.keyelco.com
Published by Keystone Electronics Corp. on Jun 12, 2017