New Hoist Drive Unit GHX125 for Industrial Cranes Going into Production
---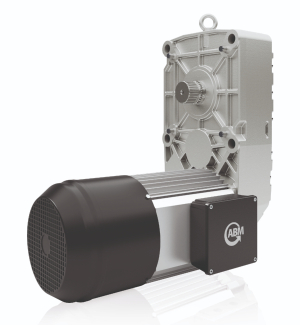 The new GHX125 Hoist Drive has completed all necessary durability tests, and are ready for production. Order GHX125 hoist units with 2-speeds or VFD motors for deliveries starting in December 2018. Output shaft & mounting remain unchanged, GHX 125 will be 100% interchangeable with the existing GH 12500. A wider variety of applications are possible due to the extended center distance. Drum sizes up to 325 mm are standard. Classification of FEM 2m at all drum sizes at reeving 4:1, doubles their service life. Increased speeds up to 200 Hz (motor) in no-load condition for VFD version, reduces cycle time. Enhanced switching behavior in two-speed version, reduces noise.
ABM Drives Inc., 513-576-1300, https://www.abm-drives.com
ABOUT ABM DRIVES INC.
ABM DRIVES INC. is the North American subsidiary of ABM Greiffenberger.
ABM Greiffenberger engineers and manufacturers high-performance motor, gearbox, brake and frequency inverter solutions for machines, plants and mobile devices in hoisting technology, warehousing, material handling, electric vehicles, biomass heating systems, wind turbines and many other markets. Founded in 1927, the company belongs to the senata Group with an annual turnover of nearly 400 million € and more than 2,000 employees. Approximately 300,000 drive units are produced annually.
In-house manufacturing includes tool-and-die design, aluminum-casting foundry and CNC housing machining, manufacturing of shafts and cutting of gear teeth, from motor development technology to assembly and final testing.
Published by ABM DRIVES, Inc. on Aug 01, 2018
T: (513) 576-1300

Address
394 Wards Corner Road, Suite 110
Loveland, OH
45140
United States
View map
T: (513) 576-1300

Address
394 Wards Corner Road, Suite 110
Loveland, OH
45140
United States
View map