New Diversified Plastics, Inc. white paper provides insight on avoiding pitfalls when transferring tools to a new vendor
---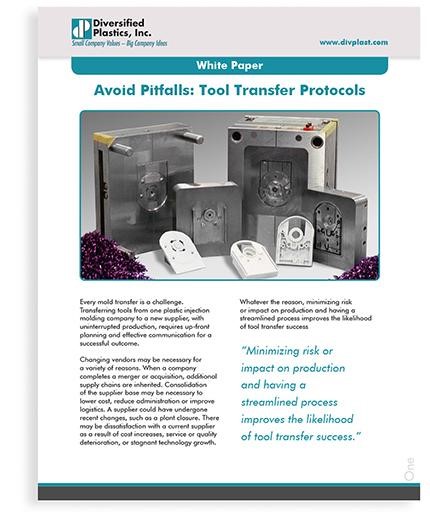 Diversified Plastics, Inc. (DPI), a custom plastic-injection molder of high-precision thermoplastic components, has released a new white paper titled Avoid Pitfalls: Tool Transfer Protocols. This white paper provides information to minimize risk or impact on production and streamline the process of transferring tools to a new vendor. To download this white paper, visit
www.divplast.com/tool-transfer.
Changing plastic injection molding vendors may be necessary for a variety of reasons, including mergers, supplier base consolidations or dissatisfaction with a current supplier. Up-front planning and effective communication are needed to successfully transfer tools to a new vendor.

"Every mold transfer can have challenges," says Annette Lund, vice president of Diversified Plastics, Inc. "This white paper is a roadmap, providing original equipment manufacturers with inside information to help them plan for success."
The white paper offers recommendations to original equipment manufacturers for assembling a tool transfer team. It also outlines what the new vendor needs to make the process as smooth as possible. The white paper provides tips on what to look for and document at an on-site visit with the current vendor. Additionally, it outlines the typical steps the new supplier will follow, from documenting receipt of the mold and evaluating the parts for manufacturability, to preparation of the first-article inspection report (FAIR).
For more information or a quote, call +1 763.424.2525 or email [email protected].

About Diversified Plastics, Inc.
Employee-owned Diversified Plastics is a custom plastic-injection molder of high-precision, close-tolerance, small- to medium-sized thermoplastic parts and components for medical device, filtration, aerospace and a variety of other industrial markets. Founded in 1977, the company is a full-service contract manufacturer providing design assistance, mold construction and intricate molding as well as cleanroom assembly. Diversified Plastics is ISO 9001:2015 and 13485:2003 certified, FDA registered, ITAR certified and UL registered.


Published by Diversified Plastics, Inc. on Jul 25, 2018
T: (763) 424-2525

Address
8617 Xylon Court North
Minneapolis, MN
55445
United States
View map
T: (763) 424-2525

Address
8617 Xylon Court North
Minneapolis, MN
55445
United States
View map