New Arbitrary/Function Signal Generators
Global Specialties introduces two new Arbitrary/Function Signal Generators to its line of educational and industrial test instruments
---
The Global Specialties SFG-20X Series are single channel function/arbitrary waveform generators, capable of generating either a 5 MHz sine wave (SFG-205) or a 10 MHz sine wave (SFG-210). Both feature, easy-to-read color displays, user-friendly controls and numeric keypads to allow easily configured waveforms.

In addition, they feature non-volatile memory to create, store, and recall arbitrary waveforms of up to 16,000 points with 14-bit vertical resolution. Forty-six predefined arbitrary waveforms are also available for output. A USB interface on the rear panel allows users to easily interface with application software to create and load arbitrary waveforms.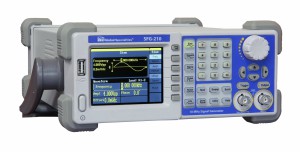 Features • 5 MHz Bandwidth (SFG-205) • 10 MHz Bandwidth (SFG-210) • 125 MSa/s sample rate • 16 kpts arbitrary waveform memory depth • 14 bit vertical resolution • 3.5-inch TFT-LCD color display • USB interface • 5 standard output waveforms • 46 built-...
Features
• 5 MHz Bandwidth (SFG-205)
• 10 MHz Bandwidth (SFG-210)
• 125 MSa/s sample rate
• 16 kpts arbitrary waveform memory depth
• 14 bit vertical resolution
• 3.5-inch TFT-LCD color display
• USB interface
• 5 standard output waveforms
• 46 built-in arbitrary waveforms
• Store/recall up to 10 instrument settings
• Modulations: AM, DSB-AM, FM, PM, FSK, ASK, PWM, Sweep, and Burst
• EasyWave® arbitrary waveform editing software included (download)

Pricing
The SFG-20X Series is available immediately with an MSRP of $365 (SFG-205) and $446 (SFG-210).

High Resolution Images
Click here to download SFG-205 High Res Images and SFG-210 High Res Images
Published by Global Specialties on Jun 01, 2016
T 800-572-1028
714-221-9330
F: 215-830-7370
Address
22820 Savi Ranch Parkway
Yorba Linda, CA
92887
United States
View map
T 800-572-1028
714-221-9330
F: 215-830-7370
Address
22820 Savi Ranch Parkway
Yorba Linda, CA
92887
United States
View map