Morel Industries Inc.
Company Profile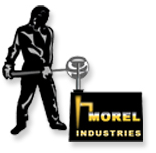 Specialists in all types of aluminum castings, brass-bronze castings and gray iron alloys. A leading Seattle foundry - Morel Industries - offering the very latest techniques in casting high quality products to industry. Also marine cast products from the smallest boating items through to large industrial clients including shipbuilding companies and the United States Navy.
Morel Industries Inc.
T: 206-784-0855
F: 206-789-6485
Address
637 South Lucile Street
Seattle, WA
98108
United States
View map
Morel Industries Inc.
T: 206-784-0855
F: 206-789-6485
Address
637 South Lucile Street
Seattle, WA
98108
United States
View map