McClellan Automation Systems Featured on EEWeb as "Engineering Site of the Day"
McClellan Automation Systems is pleased to be featured on the electrical engineering website EEWeb as Engineering Website of the Day.
About EEWeb:
EEWeb.com – An Electronics and Electrical Engineering Community for Hardware Designers
Co-founders Joe Wolin and Cody Miller formed Aspen Labs, LLC in 2007 with the goal of creating a business media company that focuses on the needs of engineers. Their first web product called "eCalc" was launched in 2008 and became an instant success among professionals and students. In 2010, they partnered with Digi-Key Corporation and launched EEWeb, a premier electrical/electronic engineering community for hardware designers.
In 2011, Aspen Labs, LLC launched EEWeb Pulse Magazine, a digital publication that highlights content from EEWeb Community.
---
Published by McClellan Automation Systems on Apr 15, 2015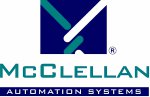 T: 603-644-2369
F: 603-644-0393
Address
85 Northwest Blvd
Nashua, NH
03063
United States
View map
T: 603-644-2369
F: 603-644-0393
Address
85 Northwest Blvd
Nashua, NH
03063
United States
View map