McAlpin Industries Inc.
Company Profile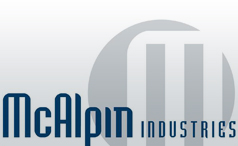 McAlpin Industries is a diversified precision metal working company that provides a variety of services to the telecommunications, computer, business machine, office equipment, medical, transportation, voting equipment, electronic, warehouse management and automotive sectors.

Our vertical integration of services provides our customers with a multitude of flexible manufacturing options based on volume, cost, and delivery.
McAlpin Industries Inc.
T: 585-266-3060
F: 585-266-8091
Address
255 Hollenbeck St.
Rochester, NY
14621
United States
View map
McAlpin Industries Inc.
T: 585-266-3060
F: 585-266-8091
Address
255 Hollenbeck St.
Rochester, NY
14621
United States
View map