Marian, Inc. Participates in the MD&M East Trade Show
INDIANAPOLIS, IN - "We see great value in exhibiting at MD&M East," said Marian President, Bill Witchger "it gives us the opportunity to discuss our high quality medical solutions with industry leading professionals, and the chance to connect with many of our top material suppliers like 3M, Polymer Science, Inc., and Mactac"

Marian manufactures precision die cut components for the medical industry. In the Marian booth, visitors will be able to see, touch and feel many solutions that Marian supplies to customers: skin contact adhesive components, wound dressings, diagnostic test strip components, cosmeceutical pads, electrode pads, surgical tapes and drapes, medical electronics components, gaskets, seals and final packaging.

Common materials used in Marian's medical solutions are silicone gel adhesive tape, skin contact acrylic tape, hydrogel, hydrocolloid, medical-grade fabrics, urethanes sponges and foams. Marian has a stringent quality system required for the medical device industry, including ISO 9001:2008 and ISO 13485 certification and cGMP compliance. Marian is FDA registered as a medical device and OTC drug manufacturer and packager.

Visit Marian in booth #2275 at the MD&M East Trade Show in New York.
---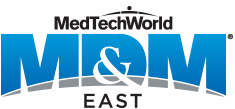 Published by Marian, Inc on Oct 01, 2015