Line Extension LW-300 and LW-400 Linear Blowers Sheboygan, WI,
LW-300 and LW-400 High Flow Output Blowers compliment LW Series
---
Thomas is pleased to announce the release of models LW-300 and LW-400 230V 50Hz oil-less dual drive linear unit high output blowers. Both linear pumps are uniquely designed for sewage aeration, pond aeration, aquaculture, or gray water treatment, but are suitable for any high flow, lower pressure application. They may also be considered as an alternative replacement for rotary vane pumps and small regen blowers.

The LW-300 and LW-400 provide high output open flows up to 625 l/min and flows at rated pressure of 350 l/min at 200 mbar and 425 l/min at 200 mbar respectively. All this performance with the same compact size (365mm x 216mm x 220mm) and lightweight but rugged construction (16.0 kg) as the LW-240. These pumps are suitable for outdoor use and are IP54 protection class approved, in addition to CE, RoHS, and REACH compliant. Design features like drive unit direct cooling, diaphragm protection switches, thermal protectors, and internal fuses will protect your investment and provide maximum life. The engineered placement of the drive units provide low vibration and quiet operation. Each unit comes standard with a low profile 250 mbar pressure relief valve to prevent over pressurization as well as a connector and 90° elbow for customer hook-up. A 1450mm long cord with Euro plug provides convenient plug-in location.
For more information on the new LW-300 and LW-400 linear pumps, please contact us or visit ...
For more information on the new LW-300 and LW-400 linear pumps, please contact us or visit
http://www.gd-thomas.com/linear/gas/lw-series/

Gardner Denver THOMAS, www.gd-thomas.com, is a leader in flow control products for medical, life sciences, and selected other industries – focused on solutions for OEMs. Innovation, global capabilities and a solutions centric approach to our customer's success is at our core. A global production network with plants in the U.S. (Sheboygan, WI and Monroe, LA), Europe (Memmingen, Germany) and Asia (Wuxi, China) allows fast and flexible reaction to our customer needs.

For inquiries:
Marketing Department
Gardner Denver Thomas, Inc.
1419 Illinois Avenue
Sheboygan, WI 53081
T : +1 920 457 4891
F : +1 920 451 4276
E-Mail : [email protected]

Published by Thomas Division on Dec 01, 2016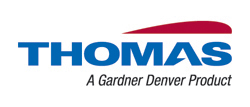 T: 920-457-4891
F: 920-451-4397
Address
1419 Illinois Avenue
Sheboygan, WI
53081
United States
View map
T: 920-457-4891
F: 920-451-4397
Address
1419 Illinois Avenue
Sheboygan, WI
53081
United States
View map