LA Aluminum Casting Co.
Company Profile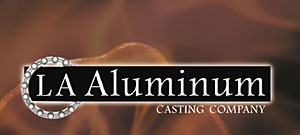 LA Aluminum is a single source manufacturer for all your permanent mold aluminum castings. We offer turnkey production including but not limited to tooling, casting, machining, pressure testing, plating, mold alteration, powder coating and assembly.

For over 65 years LA Aluminum customers have appreciated the savings in time and money that come from the complete line of services offered.
LA Aluminum Casting Co.
T: 208-772-3201
F: 208-772-9148
Address
W. 1906 Miles Ave.
Hayden, IN
83835
United States
View map
LA Aluminum Casting Co.
T: 208-772-3201
F: 208-772-9148
Address
W. 1906 Miles Ave.
Hayden, IN
83835
United States
View map