Kollmorgen Recognized as a Top 50 Global Robotics Company on Robotics Business Review's 2019 RBR50 List
Kollmorgen's second consecutive year to be included on the prestigious RBR50 list
---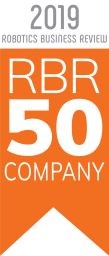 Kollmorgen has been named as one of Robotics Business Review's 50 most innovative and commercially successful robotics companies for 2019. This is Kollmorgen's second consecutive year to be included on the prestigious RBR50 list. Now in its 8th year, the RBR50 provides an up-to-date picture of the companies leading the charge in commercial and industrial robotics with pioneering applications, new products, and industry-leading solutions. The members are determined by Robotics Business Review's diverse panel of industry experts, which this year included top research firm IDC.
"Kollmorgen is honored to be recognized again as an RBR50 company," said Josh Inman, VP Marketing at Kollmorgen. "Kollmorgen has a long history in robotics, and we continually evolve to meet market demands. Right now, robot designers are competing to build even smaller and more light weight solutions. Kollmorgen supports this innovation with torque-dense motors that are endlessly customizable for both fit and performance. A broad portfolio of standard and custom motion control options and a team of "motioneering" experts allow Kollmorgen to rapidly prototype solutions and meet even the most challenging go-to-market timelines."
Kollmorgen's housed, frameless and stepper motion solutions are found in some of the world's most advanced industrial robots from leading global manufacturers such as Universal Robots and Kuka.
With a 100-year history of innovation, tens of thousands of motor designs, and hundreds of thousands of robot joints and robotic arms, Kollmorgen is a unique motion partner who understands the business and technical needs of both the robotic design engineer and the global supply chain.
For more information on Kollmorgen's motion control solutions for robotics applications, visit Kollmorgen.com/robotics.
Published by Kollmorgen Motion Technology on Jul 25, 2019

T: 540-633-3545

Address
201 W. Rock Rd
Radford, VA
24141
United States
View map
T: 540-633-3545

Address
201 W. Rock Rd
Radford, VA
24141
United States
View map