Intelligent Solution for Safe Object Differentiation and Identification on Conveying Solutions and Packaging Machines
The deTec4 Smart Box Detection allows for safe and intelligent human-material differentiation for rectangular-conveyed objects
---
MINNEAPOLIS, MINN., MARCH 15, 2022 – With the introduction of the deTec4 Smart Box Detection access protection system from SICK, secondary packaging machines in the end-of-line area, top and side loaders, or sorter and ejector modules can now be operated in a safe and user-friendly manner.

With the help of a reliable pattern detection logic, Smart Box Detection can safely differentiate rectangular objects, such as boxes, from people and body parts in the inlet and outlet zones of packaging machines or logistics conveying systems. This allows the boxes to be transported continuously without any stops into and out of fenced in machines. Since the safety solution requires no external process signals or muting sensors, it allows a cost-effective, flexible, compact, and maintenance-optimized machine design while also ensuring maximum operator safety.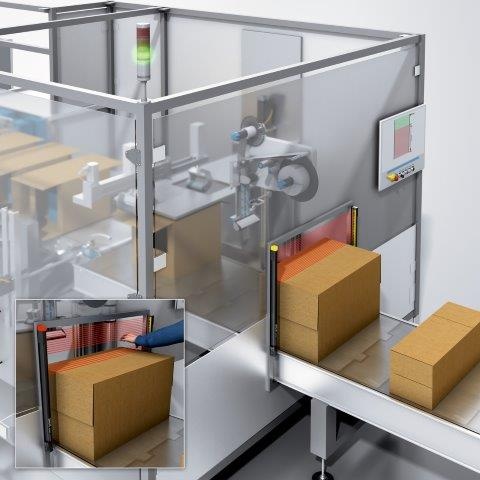 The Smart Box Detection access protection system is the first intelligent solution of its kind on the market for reliable human-material differentiation. It can detect objects with a rectangular contour and measuring 13 cm or greater in height as they enter the constantly active deTec4 protective...
The Smart Box Detection access protection system is the first intelligent solution of its kind on the market for reliable human-material differentiation. It can detect objects with a rectangular contour and measuring 13 cm or greater in height as they enter the constantly active deTec4 protective field. An intelligent evaluation of the interrupted light beam ensures a safe differentiation between humans and materials, as people that move over a conveying line or reach into a machine have a fundamentally different geometry and create a significantly different beam interruption pattern. This reliably avoids erroneous safety stops of the conveying equipment.

The deTec4 Smart Box Detection safety solution is characterized by its ease of integration. It is integrated directly into the deTec4 safety light curtain as supplementary functionality and requires no additional signals from automation systems or muting sensors during operation. It requires no additional programming, mounting, or wiring effort and can be configured to suit the requirements of numerous applications.

This lean solution design also markedly simplifies maintenance. If objects of different heights and lengths need to be detected in operation, it is not necessary to teach them in or adjust the configuration of the safety solution. This provides a maximum level of versatility and flexibility, while ensuring the highest possible productivity of the system.

 

 

Media Contact:

Mandee Nguyen, Content Marketing Specialist

952.829.4736

[email protected]

 

About SICK
SICK is one of the world's leading manufacturers of sensors, safety systems, machine vision, emissions monitoring systems, flow measurement, encoders, and automatic identification products for industrial applications. With more than 3,500 patents, SICK continues to lead the industry in new product innovations. The diversity of its product line allows SICK to offer solutions at every phase of production in the logistics, automotive, packaging, electronics, food and beverage, material handling, and process automation markets. SICK AG was founded in 1946 and has operations or representation in 65 countries worldwide.

http://www.sick.com
 
Published by SICK, Inc. on Jul 19, 2022