Infographic: Eliminating external lubrication drastically reduces costs
The low purchase price of Tribo-plastic bearings is not the only cost benefit
---
Tribo-optimized high-performance plastic bearings increase the service life of moving applications and reduce costs. One of the major reasons for these benefits is the elimination of external lubrication.
Tribo-plastic bearings made of high-performance polymers are increasingly being used in various applications worldwide. Designers and engineers trust the self-lubricating and maintenance-free bearings as a long-lasting and cost-saving alternative to metallic bearings. Plastic bearings are used in a wide range of applications, from bicycles and printers to packaging technology and agricultural machinery.
By using Tribo-plastic bearings instead of metal bearings, users save up to 40 percent in purchase costs. Users also save by eliminating the need to purchase external lubrication. Machine downtimes are significantly reduced due to the self-lubricating and maintenance-free properties of the bearings. The infographic below summarizes the cost benefits of avoiding external lubrication.
About igus®
igus® develops industry-leading energy chain® cable carriers, chainflex® continuous-flex cables, drylin® linear bearings and linear guides, iglide® plastic bushings, and igubal® spherical bearings. These seemingly unrelated products are linked together through a belief in making functionally advanced, yet affordable plastic components and assemblies. With plastic bearing experience since 1964, cable carrier experience since 1971 and continuous-flex cables since 1989, igus provides the right solution from over 100,000 products available from stock. No minimum order required. For more information, contact igus at 1-800-521-2747 or visit www.igus.com.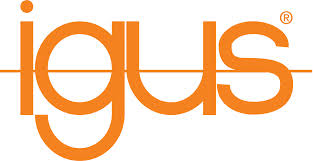 For more information send an inquiry directly to igus® Inc.