Heilind Electronics Now Stocking the Brady Wraptor A6500 Wire Marking System
Brady's Wraptor A6500 enhances the quality of wire identification by printing and applying labels in five seconds or less
---
Heilind Electronics, a leading global distributor of electronic components and authorized distributor for Brady, now offers the Wraptor A6500 Printer Applicator as part of its full line of Brady identification products.
The Wraptor A6500 Printer Applicator simplifies wire and cable marking by transforming a series of labor-intensive, inefficient tasks into a modern, automated process. Because it combines print and application processes into one unit, the Wraptor A6500 helps to improve productivity, enhance label readability and simplify operations.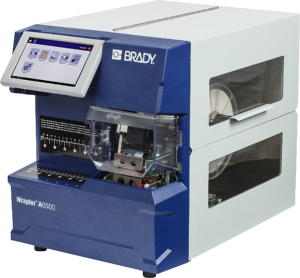 The new A6500 model offers the same reliable performance as the previous Wraptor printer applicator, plus improved firmware, greater accessibility and a more user-friendly interface. New features include a 7-inch color LED touch screen, side-opening front access door, folding side access door and three USB ports for increased connectivity options. The A6500 also accepts a wide variety of print materials that not only fit most wire identification needs, but are also compatible with Brady Workstation label creation software.
Visit Heilind's website for more information about Brady's Wraptor A6500 Wire Marking System.
About Heilind Electronics
Heilind Electronics, Inc. (www.heilind.com) is one of the world's leading distributors of connectors, relays, sensors, switches, thermal management and circuit protection products, terminal blocks, wire and cable, wiring accessories and insulation and identification products. Founded in 1974, Heilind has locations throughout the U.S., Canada, Mexico, Brazil, Germany, Singapore, Hong Kong and China. Follow Heilind on Facebook at facebook.com/Heilind and on Twitter at twitter.com/Heilind.
About Brady Corporation
Brady Corporation is an international manufacturer of high-performance labels, signs, safety devices, printing systems and software. Founded in 1914, the company has a diverse customer base in electronics, telecommunications, manufacturing, electrical systems, construction, medicine, aerospace and a variety of other industries. For more information, visit www.bradyid.com.
Published by Heilind Electronics on Jun 05, 2018
T: 800/400-7041
F: 978/658-0278
Address
58 Jonspin Rd
Wilmington, MA
01887
United States
View map
T: 800/400-7041
F: 978/658-0278
Address
58 Jonspin Rd
Wilmington, MA
01887
United States
View map