Heilind Electronics Now Stocking TE Connectivity's DiBo+ EV Charger Type 1 Cable Assemblies
New sleek design capable of high mating cycle requirements
---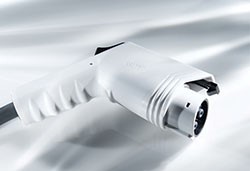 Heilind is now stocking TE Connectivity's DiBo+ EV charger type 1 cable assemblies, featuring ergonomically designed handles and UL62-compliant high-flex cable.
Heilind Electronics, a leading global distributor of electronic components and authorized distributor for TE Connectivity (TE), a global leader in connectivity and sensors, has expanded its product offering with TE's DiBo+ EV (electric vehicle) charger type 1 cable assemblies. With a new and improved housing design that includes an ergonomically designed handle, the assemblies are capable of high mating cycle requirements, with testing completed to 10,000 mating cycles.
Designed with the end user in mind, the DiBo+ charging cable assembly features a crush-resistant connector body and is resistant to common automotive fluids. The contact assemblies are sealed with a liquid silicon rubber that not only helps prevent corrosion of the crimping zone, but also protects against moisture inside the connector body. Additionally, each contact has a separate housing seal to provide a higher safety level than heat shrinking.
TE's DiBo+ EV charger assemblies are constructed with UL62-compliant high-flex cable for superior flex life, maximum reliability and functionality for every movement. This makes them ideal for industrial and automotive applications like EV and forklift charging stations.
Visit Heilind's website for more information about TE Connectivity's DiBo+ EV charger type 1 cable assemblies.
About Heilind Electronics
Heilind Electronics, Inc. (www.heilind.com) is one of the world's leading distributors of connectors, relays, sensors, switches, thermal management and circuit protection products, terminal blocks, wire and cable, wiring accessories and insulation and identification products. Founded in 1974, Heilind has locations throughout the U.S., Canada, Mexico, Brazil, Germany, Singapore, Hong Kong and China. Follow Heilind on Facebook at facebook.com/Heilind and on Twitter at twitter.com/Heilind.
About TE Connectivity
TE Connectivity Ltd. is a $13 billion global technology and manufacturing leader creating a safer, sustainable, productive and connected future. For more than 75 years, TE's connectivity and sensor solutions, proven in the harshest environments, have enabled advancements in transportation, industrial applications, medical technology, energy, data communications and the home. With 78,000 employees, including more than 7,000 engineers, working alongside customers in nearly 150 countries, TE ensures that EVERY CONNECTION COUNTS. Learn more at www.te.com and on LinkedIn, Facebook, WeChat and Twitter.
DiBo, TE Connectivity, TE and EVERY CONNECTION COUNTS are trademarks.
Published by Heilind Electronics on May 03, 2018
T: 800/400-7041
F: 978/658-0278
Address
58 Jonspin Rd
Wilmington, MA
01887
United States
View map
T: 800/400-7041
F: 978/658-0278
Address
58 Jonspin Rd
Wilmington, MA
01887
United States
View map