Heilind Electronics Now Stocking Panduit's VeriSafe Absence of Voltage Tester
Panduit's VeriSafe offers an effective and safe solution to ensure voltage has been de-energized prior to accessing equipment
---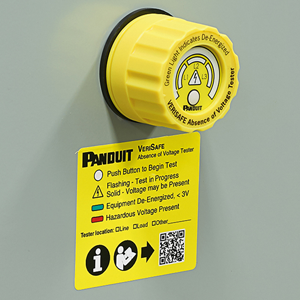 Heilind is now offering Panduit's VeriSafe Absence of Voltage Tester, designed to protect workers from electrical hazards by simplifying and automating the voltage verification process.
Heilind Electronics, a leading global distributor of electronic components and authorized distributor for Panduit, has added the VeriSafe Absence of Voltage Tester to its extensive product portfolio. This convenient device is designed to minimize electrical hazards by verifying the absence of voltage before equipment is accessed. As a result, VeriSafe is able to determine an electrically safe environment in a fraction of the time taken by portable test instruments.
Absence of voltage testers are permanently-mounted test devices designed to verify that a circuit is de-energized prior to opening an electrical enclosure containing conductors and circuit parts. VeriSafe is designed for testing three-phase circuits up to 600 V while detecting the presence of AC and DC voltage – thus making it a flexible option for a variety of applications.
One of the key features of VeriSafe is its ease of use. Once installed, a simple push of a button enables qualified electrical workers to verify the absence of voltage through an active visual indicator. The device's fail-safe and reliable process tests the tester itself, verifies installation, checks for voltage, reverifies installation, then retests the tester ‒ all automatically performed in sequence with no risk or exposure to electrical hazards.
Visit Heilind's website for more information about Panduit's VeriSafe Absence of Voltage Tester.
About Heilind Electronics
Heilind Electronics, Inc. (www.heilind.com) is one of the world's leading distributors of connectors, relays, sensors, switches, thermal management and circuit protection products, terminal blocks, wire and cable, wiring accessories and insulation and identification products. Founded in 1974, Heilind has locations throughout the U.S., Canada, Mexico, Brazil, Germany, Singapore, Hong Kong and China. Follow Heilind on Facebook at facebook.com/Heilind and on Twitter at twitter.com/Heilind.
About Panduit
Panduit manufacturers a broad selection of wire harness, heavy duty cable management and control panel solutions that help customers meet design, quality and regulatory requirements in a timely and cost-effective way. With automated tooling, technical support and worldwide availability of quality products, Panduit is a single-source partner to help you organize, connect and protect electrical and mechanical systems.
Published by Heilind Electronics on May 03, 2018
T: 800/400-7041
F: 978/658-0278
Address
58 Jonspin Rd
Wilmington, MA
01887
United States
View map
T: 800/400-7041
F: 978/658-0278
Address
58 Jonspin Rd
Wilmington, MA
01887
United States
View map