FluiDyne Stocks New Flange Mounted Valves: Pressure Relief, Unloading & Sequence
FluiDyne now offers Veljan flange mounted valves including pressure relief, unloading & sequence which are always in stock!
---
Veljan flange mounted valves are suitable for many types of hydraulic circuits. They eliminate leaking points and reduce hydraulic plumbing. A real cost saver! They are available in sizes: 0.75", 1", 1.25" and 1.5". The valves match to SAE J518 Code 61/62. The valves are rated at 3000 and 6000 psi operating pressure. The seals are offered in Buna N (standard) and Viton.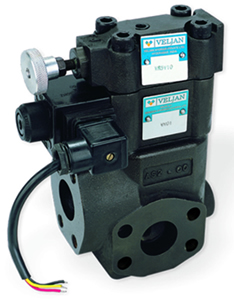 FluiDyne also offers Veljan T6/T7 single pumps, T6/T7 double pumps, T6/T7 triple pumps, T6/ T7 drive train vane pump, M4 series vane motors and of course the new flange mounted valves. Veljan pumps interchange with Parker/Denison units. FluiDyne offers competitive prices, superior quality, ISO certified and 18 month warranty.
Written by: Margo Rentz / Marketing – Electronic Media
Published by FluiDyne Fluid Power on Sep 18, 2013

T 800-842-5377
586-296-7200
F: 586-296-7210
Address
31915 Groesbeck Hwy
Fraser, MI
48026
United States
View map
T 800-842-5377
586-296-7200
F: 586-296-7210
Address
31915 Groesbeck Hwy
Fraser, MI
48026
United States
View map