Fieldtex Products, Inc.
Company Profile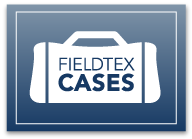 Fieldtex Products Inc. is a long-established U.S. manufacturer of custom soft-sided carrying cases, strap assemblies, and wearable medical devices. The company has full private labeling capacities, including screen printing, heat transfers, and embroidery. In addition, Fieldtex distributes blow-molded and injection-molded carrying cases with or without foam inserts.
Fieldtex Products, Inc.
T: 585-427-2940
F: 585-427-8666
Address
3055 Brighton Henrietta
Townline Road
Rochester, NY
14623
United States
View map
Fieldtex Products, Inc.
T: 585-427-2940
F: 585-427-8666
Address
3055 Brighton Henrietta
Townline Road
Rochester, NY
14623
United States
View map