Enclosure Design
Buckeye Lands an Enclosure Design, Meeting Brand Standards
---
When it comes time to land your airplane, pilots often rely on the well-lit runways at airports. Light-Emitting Diode (LED) lights have replaced tungsten halogen lamps on many airfields, and having a reliable power source that lights up the runway is critical to aircraft safety.

ADB Safegate, a product manufacturer that helps airports to operate more safely, efficiently and sustainably, created a new product—the APS—to serve as the power supply for the LED infrastructure and increase the overall system reliability while achieving increased energy savings, said Ed Runyon, advanced technology manager for ADB Safegate. ADB Safegate also developed new visual branding guidelines that define the look and feel of any new product it produces.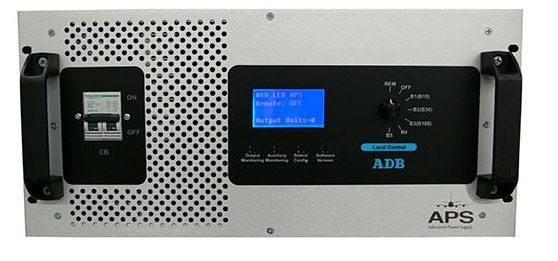 When it came time to create an enclosure for the APS, it needed a manufacturer that could implement the new guidelines and ensure a consistent, high-quality visual appearance. ADB Safegate was also looking for a standard enclosure that was easy to open for maintenance.

Buckeye Shapeform met ADB's specific needs and new brand standards with its professional, high-quality designs and endless enclosure options. After assessing the customer's needs, Buckeye Shapeform selected a standard enclosure from its Subrack Series and modified it with special hole punching, machining and graphics.

"Working with Buckeye Shapeform on this project went very well, as they knew what we needed," said Todd Winkhart, global commodity manager at ADB Safegate. "Buckeye Shapeform provided some insight on how to make the product more efficient in their processes with the equipment they have to use."

The APS has been received very well by ADB's customers. If you are looking for an enclosure manufacturer to create a high-quality, professional case that meets your brand standards, contact Buckeye Shapeform today!
Published by Buckeye Shapeform on Aug 20, 2016
T 877-728-0776
614-445-8433
F: 614-445-8224
Address
555 Marion Rd.
Columbus, OH
43207
United States
View map
T 877-728-0776
614-445-8433
F: 614-445-8224
Address
555 Marion Rd.
Columbus, OH
43207
United States
View map