DP Seals and Ridgemount Technologies build great connections
DP Seals, the Poole based manufacturer of custom rubber, seals, gaskets and mouldings has completed development of an intricate seal for Ridgemount Technologies.
---
Ridgemount is a leading European designer, developer and manufacturer of specialised fibre optic connector interfaces.The seal, which has a unique cross sectional profile, is for a new connector which will be used in military, industrial and hazardous environments, in particular, immersion and exposure to weather extremes. In all cases maintaining optical continuity for communication, data or sensing is essential. Product failure is not an option!

Rubber over-mouldingDrawing on DP Seals expertise and experience of customising solutions for harsh environments one aspect of the project required rubber over-moulding onto a tubular anodised aluminium substrate ensuring compliance to stringent MIL specifications.

The other challenging aspect of the project was the face seal. This seal is a vital component as it not only locates and seals the precision optical insert within the shell of the host connector but also performs a critical dynamic function at the optical mating face. To do this it displaces into a pre-determined diametric cavity, so as not to impair the functionality and optical performance of the mating optical inserts, whilst also maintaining the sealing of the host connector.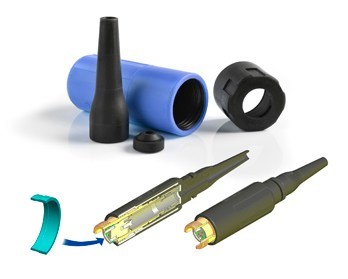 Mark Limbert, Technical Director at Ridgemount, is delighted with the end result. He commented that 'Through the product development process DP Seals has played a vital role in delivering technical excellence and a first class product in a timely manner. Such service levels and confidence makes m...
Mark Limbert, Technical Director at Ridgemount, is delighted with the end result. He commented that 'Through the product development process DP Seals has played a vital role in delivering technical excellence and a first class product in a timely manner. Such service levels and confidence makes managing New Product Introduction relatively stress free!'

DP Seals Managing Director, Andrew Piper is equally pleased outlining how "This product is another example of DP Seals responding quickly to the challenging problems and high specification requirements of customers who need custom rubber mouldings for harsh environments."
Published by DP Seals Ltd on Apr 18, 2019
T: 01202674671

Address
Unit 6, Dawkins Road
Poole
Dorset
BH15 4JY
United Kingdom
View map
T: 01202674671

Address
Unit 6, Dawkins Road
Poole
Dorset
BH15 4JY
United Kingdom
View map