Consumers to U.S. Product Developers: Make It Just for Me, ASAP
Digital manufacturing practices can help product makers meet consumer expectations for more customization, faster delivery and frequent product updates
---
"You can have any color, as long as it's black." The mass production approach to manufacturing that guided Henry Ford's early work wouldn't go far with consumers today. Not when they can buy bespoke Mini Coopers, made-to-order mattresses and personalized electric toothbrushes.

In fact, when it comes to their electronic devices — think smartphones, tablets, notebooks and cameras — a recent survey revealed that 86 percent of Americans find customization appealing. Yet only 16 percent of those potential consumers believe our current marketplace is excelling at customizing these devices. Furthermore, less than one-third of consumers think most brands are equipped today to meet customer expectations for customized electronic devices.

The national survey — conducted by ORC International on behalf of Protolabs, a digitally enabled low-volume, high-mix manufacturer — highlights the disparity between American consumers' growing expectations for customized products and their view of companies' ability to quickly deliver on them.
"At a time when product personalization is commanding premium prices and driving customer loyalty, companies can't afford to produce one-size-fits-all products," said Vicki Holt, president and CEO at Protolabs.

Based on survey responses, the need for rapid customization and more frequent product updates is likely to increase. One-third of small device owners said they expect to replace their devices more often over the next five years as devices become outdated (41 percent), upgrades are more convenient (38 percent), and prices become more affordable (37 percent).

The younger the consumer, the greater their appetite for frequent upgrades, too: 46 percent of millennials (ages 20 to 37) expect to replace their device with a new model more often over the next five years. That compares to 32 percent of Gen X (ages 38 to 53) and 26 percent of baby boomers (ages 54 to 72).
Features that consumers want to customize include options such as charging, types of connectivity, color, and design of device exteriors and accessories.

How can these evolving consumer expectations be met?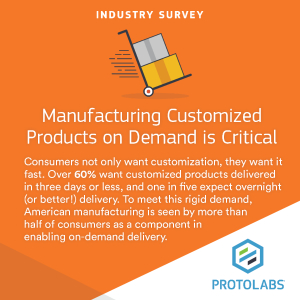 "It is more important than ever for manufacturers to adopt the digital models that enable product makers to quickly and affordably bring a diverse selection of product options to market to meet consumer demand," said Holt. "This is achieved by automating the front end of the manufacturing process. Traditional manufacturing approaches that do not utilize this are not equipped to deliver on this desire for customization quickly or affordably."

Digital approaches that enable rapid prototyping and low-volume, on-demand manufacturing of custom parts help reduce companies' risks by streamlining product development cycles and allowing for iterative testing cycles.

"Companies that meet consumer demand for customization will gain a competitive edge along with access to new revenue streams and a potential sales advantage," added Holt.

About the Survey
The public-opinion online poll was commissioned by Protolabs and conducted by ORC International's CARAVAN® Online Omnibus in March 2018. It consisted of a demographically representative sample of 1,004 adults comprising of 502 men and 502 women 18 years of age and older. The margin of error is +/-3.1 percentage points for the full sample.

About Protolabs
Protolabs is the world's fastest digital manufacturing source for rapid prototyping and on-demand production. The technology-enabled company produces custom parts and assemblies in as fast as 1 day with automated 3D printing, CNC machining, sheet metal fabrication, and injection molding processes. Its digital approach to manufacturing enables accelerated time to market, reduces development and production costs, and minimizes risk throughout the product life cycle. Visit protolabs.com for more information.
Published by Protolabs on Jun 27, 2018