Barnes Group Inc.
Company Profile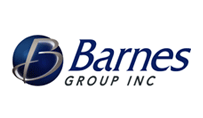 Founded in 1857 by Wallace Barnes in Bristol, Connecticut, U.S.A., Barnes Group Inc. has a long and storied history of innovation and technological advancements in manufacturing and distribution. A business that began as a metal parts shop has become a diversified leader in engineering and manufacturing precision metal components and an industrial distributor of a broad range of maintenance, repair, operating and production supplies.
Barnes Group Inc.
T: 860-582-9581 x216
Tech. Dpmt.: 860-583-7070

Address
18 Main Street
Bristol, CT
06010
United States
View map
Barnes Group Inc.
T: 860-582-9581 x216
Tech. Dpmt.: 860-583-7070

Address
18 Main Street
Bristol, CT
06010
United States
View map